We took a vacation to Germany for a wedding and found ourselves in the magical and quaint town of Tubingen. Located just 1 hour south Stuttgart and 2.5 hours from Frankfurt. This city is the setting you would imagine for Beauty and the Beast with flower-box-lined cobble stoned streets! It's so lovely, colorful, and just plain wonderful. I fell in love as soon as I left the train station and so will you. So in no particular order, these are 7 things to do when you're in Tubingen.
Colorful houses line the river in the alstadt where the charm begins!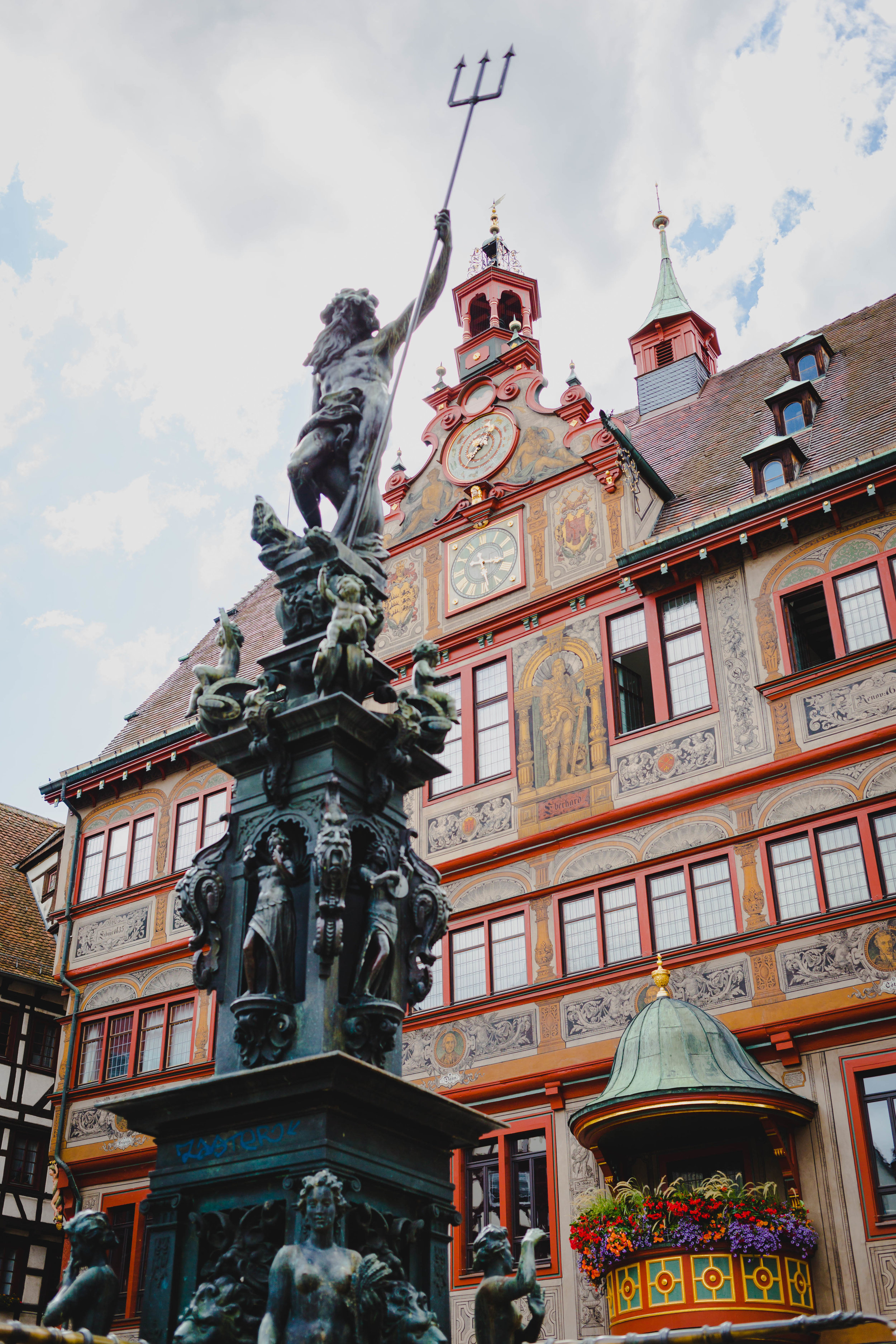 This majestic building is a masterpiece, located in the heart of the town square.
3. Hohentubingen Schloss (Castle)
Climb up to the castle (now serving to house university classes) and look over the city below. Wonder around the grounds and don't forget to look for the faces on the gate when you enter!
Wonder around the winding, narrow, cobblestone streets of the Old Town and marvel are all the beautifully painted half-timber homes.
5. Take a ride on a punt boat.
On the edge of the river, you can take a punt boat tour up and down the river. If you prefer to proppell your own boat there are canoes, paddle boards and peddle boats available for rental.
Pack a picnic and take a nap under the trees on Neckar Island or walk the beautiful Plane Tree Avenue.
7. Eat and drink at the Gasthausbrauerei Neckarmüller
Serving up traditional German-Swabian Spätzle and some damn good beer. Get the pork knuckle!
We loved our short time in this wonderful university city and our only regret is not staying longer. Of course there are a whole lot more to do while you are here, just hit up the tourist shop across the Neckar River from Neckarmuller to pick up a handy-dandy map of all the great places to see while you're there. You'll fall in love as we did!